Hetzelfde anders gaan zien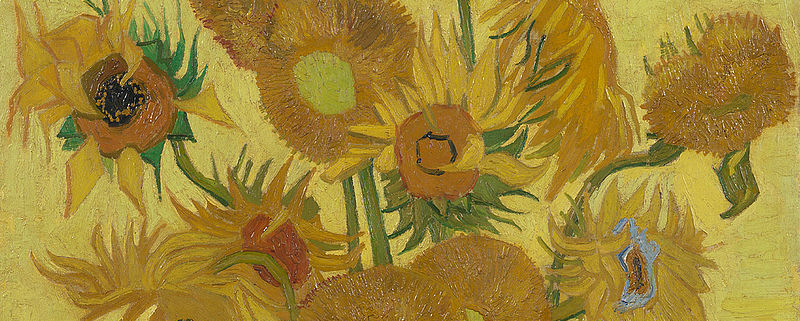 Waarom is het werk van grote kunstenaars zo groot? Omdat het op een radicaal andere manier met hetzelfde omgaat. Van Gogh schilderde geen andere zonnebloemen, maar bekeek ze met andere ogen. Waardoor hij ze ook anders schilderde. Ongehoord anders. Nooit eerder vertoond afwijkend. En daarom in zijn tijd ook zo verguisd. Want het andere en afwijkende: de wereld heeft er een bloedhekel aan.
En toch vraagt juist deze Corona crisis om anders, afwijkend, onwerelds, denken en doen. Betoon jezelf een levenskunstenaar en waag het er ook op.
Hoe? Door dezelfde woorden en gevoelens die ieder mens kent, anders te benaderen. Leer er mee om te gaan als kleding.
Bang, boos, eenzaam of verdrietig? Natuurlijk, dat kan. Maar dat betekent nog niet dat je dat gevoel ook hoeft aan te trekken. Je bent niet gedwongen je er door te laten tekenen.
Doe daarom niet automatisch aan wat de meesten al dragen. Wat in de mode is. Leg je angstbroek, paniekshirt of zorgenrok neer op je bed, spreid ze uit en laat ze hun verhaal vertellen. Niet in stilte, in 'gedachten', maar door ze op te schrijven en vervolgens hardop voor te lezen. Zo voorkom om te beginnen dat ze zich in het geheim ontwikkelen tot een zwerende wond.
Waarna je 'alleen maar' luistert naar wat je jezelf hoort voorlezen. Zoals je zou luisteren naar een goede vriend die in de rouw is en voor de duizendste keer zijn verhaal vertelt.
Neem de tijd. Zit, wees stil en word aanwezig voor wat de spreker in je, de luisteraar in je aanreikt. Zonder enig weerwoord of commentaar. Zoals de zee ook geen mening verkondigt over een losgebarsten regenbui.
Het wonder dat je dan overkomt: als uit de hemel worden je nieuwe kledingstukken aangereikt. Verse, frisse, levengevende gedachten en gevoelens. Die niet uit een boekje komen – 'denk positief'-  maar uit het hart van je bestaan.
Bedrukt, bezorgd, onrustig? Denk Rembrandt of Van Gogh, Stravinsky of Bach: bekwaam je erin hetzelfde anders te gaan horen, anders te gaan zien. Hier kun je dat leren.
Als je kunt zingen met de engelen zou je toch wel gek zijn te blijven huilen met de wolven?
https://www.libercoaching.nl/wp-content/uploads/sites/91/2020/03/csm_De-zonnebloem_7d85c6fab1.jpg
450
800
liber
https://cluster.swstatic.nl/wp-content/uploads/sites/91/2019/07/Liber-logo.png
liber
2020-03-25 16:01:59
2020-03-27 21:42:23
Hetzelfde anders gaan zien