Leven op de automatische piloot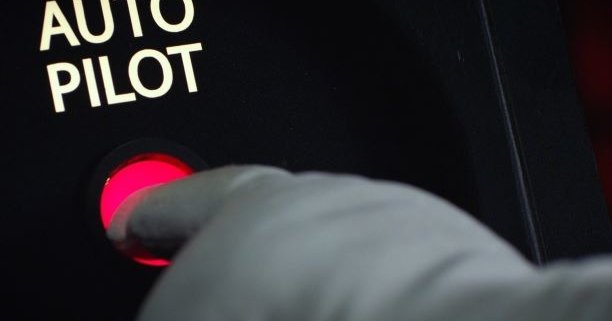 Op weg naar z'n werk, zet een maatschappelijk werker in New York iedere dag zijn kinderen, een tweeling van anderhalf, af bij de crèche. Tot hij dit op een noodlottige dag vergeet. Wat hij zich pas realiseert als hij ze, na gedane arbeid, wil gaan ophalen. Maar de stad gaat die dag gebukt onder een hittegolf. Achtergebleven op de achterbank van de auto, zijn de kinderen oververhit geraakt en overleden.
Eerste reactie: dit kan toch niet?! Hoe kun je zoiets nu vergeten? Maar jawel, dit kan wel. Sterker nog: het gebeurt vaker. Het is al honderden ouders overkomen. En het patroon is steeds hetzelfde: men gaat boodschappen doen of naar het werk en vergeet, aangekomen op de plaats van bestemming, de kinderen vergeten te zijn.
Vergeten te zijn vergeten. Dubbelop dus. Zo kan het brein werken. Niet alleen maken we een vergissing, maar ook dat we die vergissing maken wordt uit ons bewustzijn gewist. Tot iets of iemand ons wakker maakt.
De psychologische verklaring: als we bekende handelingen verrichten, bijvoorbeeld eenzelfde route rijden, zetten we de automatische piloot aan. Daardoor kunnen we meerdere dingen tegelijk doen. Zoals autorijden en een gesprek voeren tegelijkertijd. Maar daarvoor betalen we wel een prijs. Het deel van ons bewustzijn dat ons eraan herinnert dat we ons ook nog iets anders hadden voorgenomen, gaat op slot. We vergeten dat we nog kinderen in de auto hebben om dezelfde redenen waarom we op weg naar huis kunnen vergeten boodschappen te doen. Ook al hadden we ons dat nog zo voorgenomen. Spanningen en vermoeidheid spelen hierbij trouwens ook een rol.
Een vader die vergeet zijn kinderen vergeten te zijn. Diep tragisch is het. Maar zo mogelijk nog tragischer wordt het, als we beseffen hier in het klein mee te maken, wat in het groot schering en inslag is. Want op een vergelijkbare manier functioneren we allemaal maar al te vaak op de automatische piloot. En ook dan zijn er slachtoffers te melden. Zij het minder tastbaar en zichtbaar. Want op de achterbank van ons eigen bestaan legt hierdoor onze unieke betekenis het loodje. Wie en wat we werkelijk zijn. Ons individuele 'ik', maar vooral ook ons mysterie 'ik': dat en wat ons tot mens maakt. Het vraagteken in ons.
In onze ijver het goede te doen, de dingen goed te doen, verstikken we wat ons tot doen in staat stelt. Erop gebrand het juiste te denken, doden we ons bewustzijn meer dan juist 'gedacht te zijn'.
Klimaatverwoesting? Laten we het eens hebben over zelfvernietiging…
'Het grote Tao raakte in de vergetelheid. Menslievendheid en rechtschapenheid deden hun intrede. Schranderheid kwam in aanzien – het grote gehuichel nam een aanvang'. Woorden van Lao Zi, uit de zesde eeuw voor Christus. Vrij vertaald: vergeet tijd en ruimte te maken voor het onbekende dat je bestaan onderbouwt, en je plaatst je erbuiten. Wordt een 'fake' versie van jezelf.
Het is een centraal element in de Liber coachingsmethodiek. Het 'niet-weten', het vraagteken in jezelf, te leren activeren. Wat zoveel is als het als zodanig te durven gaan respecteren. Het niet in te vullen. Met niets niet. En om het vervolgens een actieve rol te geven in je doen en laten.
'Zo vreemd, alsof ik nu pas begin te leven' zo beschreef iemand die Liber een paar weken had beoefend, wat er daardoor gebeurt. Maar zo vreemd is dat niet. Want nergens ervaren we onze kernbetekenis beter dan in juist het vraagteken. In de leegte van ons niets-weten. Open hart, open handen, geen idee.
Je kostbaarste bezit? Wie je ten diepste bent. Waartoe juist jij, juist nu op deze aarde rondloopt. Je unieke, onderscheidende gave en betekenis. Hoe wek je het tot leven, hoe houd je het in leven? Zie, beleef en ervaar hoe je automatische piloot het iedere dag weer doet sterven. Je schrikt je dood. En de levende 'ik' kan in je opstaan.
*
Probeer de Liber oefeningen zelf eens. Hier kun je ze vinden.  
https://www.libercoaching.nl/wp-content/uploads/sites/91/2019/08/autopilot-min.jpg
408
612
liber
https://cluster.swstatic.nl/wp-content/uploads/sites/91/2019/07/Liber-logo.png
liber
2019-07-22 13:50:33
2020-03-20 21:47:58
Leven op de automatische piloot